---
from
---
Note: Current p/p indicative rate. Final price may change due to currency fluctuations.
Ship
Kangaroo Island Immersion
City
Kangaroo Island to Kangaroo Island
---
---
Overview
Our four-day Kangaroo Island Immersion tour covers our Island Life, Flinders Chase Focus, East End Explorer and Fine Flavours itineraries. Please note: Day 1, 2, 3 and/or 4 may be interchanged to suit prior bookings or departure days. MAXIMUM GUESTS Our small group tours have a maximum of 12 guests and once the number of guests exceeds 6, a second guide will join the group. PICK-UP TIMES AND LOCATIONS We meet the morning Regional Express flight (ZL4753) arriving 10:05am. Prior to this, we can pick up from a range of accommodation properties including Aurora Ozone Hotel, Kangaroo Island Seaside Inn, Mercure Kangaroo Island Lodge, Wanderer's Rest, Stranraer Homestead, Molly's Run and Oceanview Eco Villas. Specific pick-up times will be confirmed with your accommodation the day prior to your tour.
Departures
Note: Current p/p indicative rate. Final price may change due to currency fluctuations.
Cruise Itinerary
Begin your four day tour of Kangaroo Island with our Island Life itinerary. Welcome to Island life – where things take time, drivers wave as they go by – or even stop for a chat. Have a cuppa with some home-made treats before taking a walk down a country track through tall Eucalyptus trees where koalas snooze overhead or wake briefly for a feed. Listen for the sounds of the bush – brightly coloured honeyeaters and brilliant parrots, cicadas or perhaps just the sound of silence. Travel through the Island's most productive country to the north coast. Walk through the bush with your guide – through strangely shaped trees learning what makes that noise, whose tracks are those, and who left THAT little pile there? Look for small wallabies almost extinct on the mainland, a kangaroo found only on Kangaroo Island and a variety of other birds, plants and animals. Break for lunch at a private bush camp and enjoy a delicious meal featuring King George whiting (local sea fish), fresh salads and fine South Australian wines. At Seal Bay Conservation Park take a private tour with your guide among Australian sea-lions on a beautiful sandy beach – an experience similar to that of the Galapagos. Watch pups nursing or playing in the surf, see old bulls bearing the scars of territorial disputes and learn about their unique breeding biology.
---
Begin the day travelling through some of the fire-affected landscapes of Kangaroo Island, which are recovering quickly following generous winter rains. Learn about fire ecology and how nature deals with fire. Some of our native flora species only flower following fire! Travel into Flinders Chase National Park and explore the massive shapes of Remarkable Rocks, a natural sculpture perched impossibly on top a granite dome plunging into the ocean Break for an elegant picnic lunch in the bush, or if weather permits, on a spectacular clifftop. Lunch features marinated poached chicken, fresh salads, cheeses accompanied by local wine, beer, soft drinks and spring water. Evidence of the power of the Southern Ocean swell continues at Admirals Arch – a coastal grotto which provides a haul out for a large colony of Long-nosed fur seals which swim effortlessly through crashing waves.
---
Begin the day in the pristine farming region of Cygnet River, which produces a range of primary food sources including barley, wheat, canola, oats, lamb and beef. Learn about the agricultural history of Kangaroo Island and pass by Kangaroo Island Pure Grain, which is 'GM-free' and offers consumers farm-gate traceability and complete production history. Our first stop is Kangaroo Island Olives, where father and son duo, Michael and Dom, produce olives from a grove of 5000 trees. This enterprise reflects both our Mediterranean climate and the rich immigrant history of South Australia. Our tailgate tasting includes both table olives and some of the delicious oils they produce. On our way to the coastal town of American River, we pass Fryar's Kangaroo Island Free Range Eggs and learn about the fascinating egg farm. The hens are free to roam wherever they like foraging in the pastures under the careful protection of Maremma guardian dogs. American River is home to the Kangaroo Island Oyster Farm Shop, which produces delicious Pacific Oysters in the calm waters of Eastern Cove. Depending on the season, we will either sample some oysters in the shop or at a secluded picnic spot. Our alfresco lunch features smoked meats, fresh salad and a selection of local beer and wines. After lunch, we head inland to visit Clifford's Honey Farm. Since 1973, the Clifford family have specialised in producing honey from Kangaroo Island's Ligurian Bee. Here we will gain an insight into the production of honey, including a tasting of a range of honey plus Jenny's famous Honey Ice Cream! The Islander Estate Vineyards are one of Kangaroo Island's premium wineries, producing a range of stunning red and white varieties. We visit their tasting room and will sample a selection of their wines whilst hearing about some of the creative winemaking techniques used by owner and winemaker, Jacques Lurton, from Bourdeaux, France. End the day with a tasting at Kangaroo Island Spirits, who have won numerous awards globally (including New York and London) for their range of beautiful gins and liqueurs.
---
Start the day at Pennington Bay situated at the narrowest part of the Island. This Southern Ocean beach is a popular fishing and surf spot. Enjoy home-baked morning tea overlooking extensive wave-cut platforms and contrasting deep aqua water. Travelling east we get endless views of the serene marine sanctuary which is Pelican Lagoon. Adjacent the lagoon is excellent kangaroo habitat and the tea-tree thickets harbour tammar wallabies sheltering from their constant predator – the wedge-tailed eagle. The deep alluvial soils of Willson River overlying limestone are perfect for grapevines. The team at False Cape Wines have a newly opened cellar door experience overlooking well-established vines. We will sample their range of wines and then enjoy a local produce picnic nearby. Cape Willoughby Lighthouse, established in 1852, stands tall on an exposed headland. Explore the lighthouse precinct and the granite canyon known as "Devil's Kitchen". This lighthouse shines a warning for sailors traversing the treacherous Backstair's Passage. The headland provides protection from ocean swells for Antechamber Bay. Take a walk on the long white sandy beach or seek out birds on the quiet backwaters of the Chapman River estuary. End the day in Penneshaw which we can access via a 4WD trail known as Binney's Track. This runs adjacent to Baudin Conservation Park which provides habitat for a range of wildlife including glossy black-cockatoos, kangaroos, wallabies and echidnas.
---
Itineraries are subject to change.
---
Kangaroo Island Immersion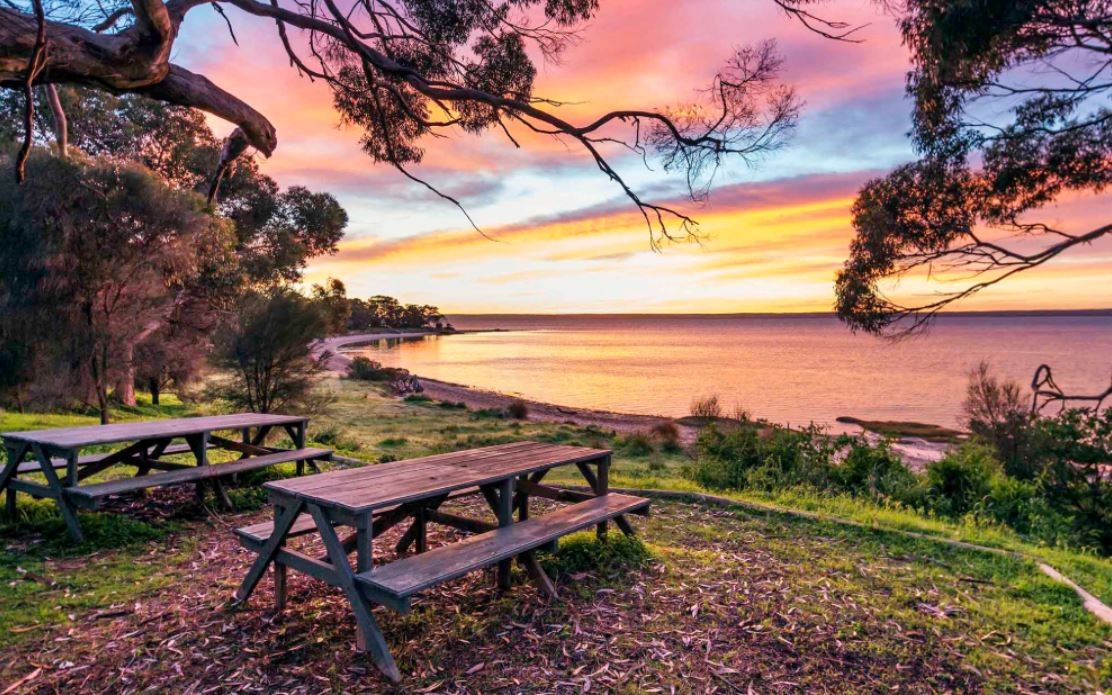 OCEANVIEW ECO VILLAS Oceanview Eco Villas offer two private villas set on the beautiful north-facing coastline of Kangaroo Island, offering an all-inclusive hosted experience. Oceanview Eco Villas comprise of two contemporary luxury villas, each of which are two bedroom/two bathroom and feature private baths with windows opening up to the ocean. Floor plans are mirrored either side of the central open-plan living area comprising a common dining and lounge area. Oceanview is family-run and guests have access to the private beach and farmland which is run as a sheep-grazing property and has retained a significant amount of wildlife habitat ensuring plenty of views of animals particularly in the evening. Located only minutes from American River and about 20 minutes drive from the Kingscote Airport, this property can be used for guests touring on a small group or private basis. The villas sit on a cliff-top across a valley from the family homestead so the solitude is balanced by having access to the hosts only minutes away. Oceanview is completely self- sustaining in terms of rainwater harvesting and renewable power is a hybrid system of wind and solar. There is a two night minimum stay and the property is offered on a dinner, bed and breakfast basis. Local ingredients are a mainstay of the menu and the wine list features the best of Kangaroo Island and South Australian wines. AURORA OZONE HOTEL The Aurora Ozone Hotel is Kangaroo Island's largest accommodation. It is located in Kingscote and features contemporary 4 star rooms. The Aurora Ozone Hotel is located in Kingscote on the foreshore overlooking Nepean Bay, just 15 minutes from the Kingscote airport, or 45 minutes from the ferry terminal in Penneshaw. Kingscote is South Australia's oldest European settlement and the island's largest town. Kingscote is the commercial hub of Kangaroo Island and contains most of the Island's shops, cafes, galleries, the medical clinic, pharmacy and hospital. The Ozone is a short walk from the wharf which is home to the Island's fishing fleet and often has a few long-nosed fur-seals lazing about on the rocks. The original section of the hotel retains a Victorian facade and old world charm typical of many Australian seaside hotels. There is a newer building constructed across the road from the main hotel and these rooms are quite contemporary in design. This is the largest property on the Island and often used as the accommodation venue for groups, with a variety of room types making up the total of 77 rooms. The property has a large bistro open for breakfast, lunch and dinner and there is a selection of meeting and function spaces in the hotel used for corporate clients as well as groups wanting a private dinner with a guest speaker. The Executive Sea View Rooms have sea views out to Nepean Bay and Kingscote Wharf from the balcony or private terrace. Situated on the ground and first floor, all rooms feature a king bed and ensuite bathroom. Many also have an additional single bed, if twin or triple share configuration is required. Other room types include two bedroom Penthouse Apartments, one, two and three bedroom apartments and Executive rooms with faux balconies. Other facilities on the property include: outdoor pool, gym, guest laundry, ATM, and in-room dining. MERCURE KANGAROO ISLAND LODGE Kangaroo Island Lodge is a 4 star hotel located on the waterfront of American River. The property has 38 rooms and offers an excellent restaurant. Kangaroo Island Lodge is located 30 minutes from the Kingscote Airport in the small fishing village of American River and situated on the waterfront overlooking Eastern Cove and American River. Nestled below a high ridge, the gardens feature many native plants which provide nectar and shelter for local wildlife and , there is a myriad of native wildlife, birdlife and wallabies can often be seen feeding right on the property. Glossy black cockatoos feed on the property and nest in the nearby valleys. The restaurant is considered one of the best public dining venues on the Island and has a strong focus on showcasing local produce and changes regularly to reflect seasonal opportunities. The property has a conference room which can be used for guest speakers after dinner as part of a programme for special interest groups. The locality has a mix of habitat types making it an excellent choice for guests interested in natural history with excellent bird watching opportunities close by. WANDERER'S REST Wanderer's Rest have been operating on Kangaroo Island for more than 40 years and offers a family-hosted accommodation experience in a beautiful setting overlooking Eastern Cove. Wanderer's Rest is located in American River, a small fishing village about 30 minutes drive from Kingscote Airport. American River is known for its casual atmosphere, amenable microclimate, abundance of wildlife, bird life, bushwalks, wildflowers and friendly locals. This family run property offers great hospitality with 9 rooms looking out through the trees to the waters of Eastern Cove. The restaurant caters for guests at breakfast and other patrons for evening meals. The property is set over three levels with the dining room at the top with expansive views, the second level featuring the pool and gardens and a single detached guest room, and then the lower level has the remaining 8 guest rooms side by side. Each of the guest rooms has king beds that can be split into two singles, and a third bed can be added for triple share. The rooms are accessed from a walkway at the rear, have en-suite bathrooms with shower and vanity and open up to individual balconies with views to the ocean. All rooms have sea views and feature televisions, reverse cycle air-conditioning, ensuite bathroom with robes, individual balconies, mini bar, tea and coffee-making facilities and free wifi. The property also has a heated swimming pool. American River is a great location for guests interested in natural history as the mix of low energy marine environment and a variety of vegetation types on the hillside behind the town offers habitat for a good range of birds, plants and animals which provides great viewing opportunities. Regular encounters include the endangered glossy black cockatoo, royal spoonbills, black swans, pelicans, superb blue wrens, tammar wallabies and brush-tailed possums. STRANRAER HOMESTEAD Stranraer Homestead is a legendary farmstay accommodation situated on a working sheep farm which has been in the Wheaton family for generations. Their gracious hospitality includes delicious home cooked meals. Stranraer is located on a 3000-acre working sheep farm which has been in the Wheaton family for generations and the hospitality is legendary. Located in the MacGillivray area about 20 minutes drive south of the airport, the homestead is constructed of local limestone and has broad verandahs surrounding it for that classic Australian country style – architects consider Stranraer to be an excellent example of Federation architecture. Guests are accommodated in four guest rooms although a maximum of three are used at one time unless the property is booked on a sole-use basis. Each of the three guestrooms have a dedicated bathroom. The homestead has been carefully restored with period furniture without compromising comfort as the amenities are contemporary with high quality linens and bedding throughout. Three rooms have Queen beds, one of these has an additional Single and a fourth room has two Single beds in a twin configuration. The walled garden and orchard provide much of the produce utilised in the generous yet refined catering. Meals are prepared by Lyn and the dinner offers two options for entree, main and dessert with much locally sourced. Breakfast is a selection of fresh-baked pastries, preserved fruits, cereals and a range of hot dishes and is commented on by guests as a stand-out meal. This is a remote location so unless unless guests are self drive it does not make sense to book anything but a dinner, bed and breakfast basis. Touring can be share or private. Guests arriving at Stranraer on a Saturday afternoon through the summer are often surprised to find a local cricket game in full swing as Stranraer provides the home grounds for MacGillivray Cricket Club and the Wheatons have been keen participants over generations. MOLLY'S RUN Molly's Run is a beautiful boutique accommodation located in a rural setting on the north coast with views out over the ocean. The three guest rooms are all en-suite and are fully-catered. Molly's Run is a purpose-built bed and breakfast in a coastal setting surrounded by extensive gardens. The outlook is over 60 acres of rolling farmland to Smith Bay and the north coast. The property is 30 minutes from the Kingscote Airport and 20 minutes from the township of Kingscote. Unless self-driving, the remote location means all transportation and transfers must be pre arranged and it is not practical to dine elsewhere as there are no shops or restaurants nearby. A typical package booking with Exceptional Kangaroo Island is dinner, bed and breakfast; touring and any necessary transfers included. The Mediterranean style villa has an open design with large windows, spacious entertaining areas and is furnished in a "country house" style. The living area is open to guests who often enjoy a drink in the kitchen whilst the evening meal is prepared. The walled courtyard is used for alfresco dining in warmer weather. Gracious hosts Paul and Charmaine are well-travelled and have an extensive hospitality and business background. The property has three guest rooms, all with en-suite bathroom facilities. The house was designed with hospitality in mind and each guest room has a completely separate zone and private entrance giving it quite a spacious and independent feel compared to many bed and breakfast properties.
Highlights
• At Seal Bay Conservation Park take a private tour with your guide among Australian sealions on a beautiful sandy beach – an experience similar to that of the Galapagos. • Travel into Flinders Chase National Park and explore the massive shapes of Remarkable Rocks, a natural sculpture perched impossibly on top of a dome of granite emerging from the ocean. • Cape Willoughby Lighthouse, established in 1852, stands tall on an exposed headland. Explore the lighthouse precinct and the granite canyon known as "Devil's Kitchen". • Learn about the agricultural history of Kangaroo Island
Map