---
from$ 6990 AUD
---
Note: Current p/p indicative rate. Final price may change due to currency fluctuations.
---
---
Overview
Join us onboard Coral Adventurer as she returns to operations in January 2021 for an all-new 12-night expedition immersion. This voyage uncovers the biodiverse ecology, intriguing maritime history, and the outer limits of the Great Barrier Reef and Coral Sea. Plunge below the surface into the extraordinary habitats where abundant marine life awaits. Explore one of the world's best dive sites at Holmes Reef, and snorkel at some of the Coral Sea's most remote reefs, such as Marion, Frederick & Cato Reefs. Along the way, step ashore on deserted cays at Herald Cays & Diamond Islets for beachcombing, hiking, and relaxing sunset drinks. Get close to nature with opportunities for incredible birdwatching, and snorkelling among vibrant schools of pelagic fish and green sea turtles. Our expert guides will share great stories and insights of Australia's maritime history as we follow the wake of early navigators. Onboard, you will be accompanied by expert guides including a Marine Biologist. Our purpose-built ships are custom built for expedition cruising, with refined steering capabilities, shallow draft and nimble explorer tenders we will bring you closer to remote sites and natural habitats. You will enjoy freshly prepared small-batch cuisine featuring the best local ingredients and relax and enjoy quality local beers and wines. With an intimate atmosphere and our renowned Australian hospitality, you will quickly feel at home and make connections with new friends. Guest Lecturer Damon Ramsey: Damon Ramsay is a marine biologist and author who has worked as guide and lecturer around the world. He produces humourous videos exploring various ecosystems, and runs a 'field guide to the planet' website.
Departures
Note: Current p/p indicative rate. Final price may change due to currency fluctuations.
Cruise Itinerary
Board Coral Adventurer at 4.00pm, where there is time to settle into your stateroom before our 5:00pm departure. As dusk falls, meet your fellow travellers, the Captain and crew for the Captain's Welcome Drinks.
---
Fitzroy Island, covered with lush rainforest and fringed by coral, separated from the mainland about 8000 years ago. With a curious history that includes being named by James Cook, and being the location of a Chinese quarantine station during the goldrush, Fitzroy Island is now an idyllic introduction to the Great Barrier Reef's wonders. Today, we will enjoy a walk through the Secret Garden rainforest. For the more adventurous, a walk to the de-commissioned lighthouse rewards you with panoramic views over Coral Sea, islands and mainland mountain ranges. Later, snorkel over the fringing reef and potentially spot some green sea turtles or relax on the white beaches. A short walk takes us to the Cairns Turtle Rehabilitation Centre, where sick and injured turtles are cared for before being returned to the wild. We will learn about the important conservation work being carried out by the volunteers here.
---
Begin your day at Holmes Reef, one of the Coral Sea's outer reefs and one of the top 100 dive sites in the world. Holmes Reefs is named after the young Captain Henry Holmes, whose ship Thomasine sank here enroute to Hong Kong in 1853. The reef was uncharted at that time, but thankfully Holmes and most of his crew survived. Story here Split into two sections, East and West, the reef has large lagoons with safe anchorages. It is known for its wall and pinnacle dives, which feature amazing coral and marine life in tremendously clear water. Popular sites are The Cathedral, Golden Wall, and The Abyss, where coral walls give way to deep water where pelagic fish, sharks, and eagle rays gather. Pinnacles tower, some rising from 35 metres, providing shelter to swarms of reef fish that flutter around the beautiful soft corals covering the reef. Also common are reef sharks, schools of trevally and barracuda, stingrays, tawny nurse sharks, and turtles. Dive locations at Holmes Reef are suitable for beginner to advanced divers, and snorkelling is possible should weather permit.
---
The only permanently inhabited island in the Coral Sea Island Territory, Willis Island is remarkably remote, while only 450km from Cairns. The weather station here was established in 1921, after several severe cyclones struck the coast without warning, claiming many lives. Now hardy and resilient weather researchers are stationed here for 6-month periods to gather important data for the Bureau of Meteorology. This weather station has proved vital to learning about Coral Sea weather systems, including cyclones, and has potentially saved many lives through storm warnings and weather pattern prediction. Now it also serves the important purpose of monitoring climate change, assisted by its remote and pristine location. The small island is also ideal for nature walks and birdwatching, with multitudes of seabirds congregating here, including wedge-tailed shearwaters, sooty terns and common and black noddies. We may also spend time snorkelling or diving on the coral reefs surrounding the island. Green turtles also nest here, and we may spot them swimming in the un-disturbed waters.
---
Part of the Coringa-Herald National Nature Reserve, created in 1982 to protect pristine seabird and green turtle nesting grounds, Herald Cays was the subject of a comprehensive study by the Royal Geographical Society of Queensland in 1997 which discovered up to 125 species in this remote reserve. Located around 200 nautical miles east of Townsville, the cays are a natural paradise where hundreds of curious red-footed boobies and lesser frigate birds make their home. The two island cays are very different – South West Herald is low and flat, with little vegetation, while North West Herald has thick vegetation of low trees and bushes. The perfect beaches surrounding the cays give way to clear turquoise waters, where turtles can be spotted swimming and popping up to breathe. Here we will enjoy nature walks along the shore, watching hermit crabs scuttling along the secluded beach and spotting numerous species of birds. Weather permitting, diving and snorkelling is possible, which will reveal a vibrant underwater world. With up to 45 metres visibility, it is possible to see grey whaler sharks and eels. Coral coverage is low here, due to its exposure to storms, but colourful sea slugs and nudibranchs can be spotted, along with many fish. At night, the absence of light pollution in this remote location provides an opportunity for mesmerising views of the star-filled sky.
---
Surrounded by sapphire blue water, the untouched Diamond Islets seem to float atop the waves. A haven for Green Sea Turtles, it may be possible to spot them on the beach or swimming in the shallows. Birdwatching is very rewarding, with multiple species present in large numbers. Masked, Brown and Red-footed boobies nest here in large numbers and can be quite friendly, flying out to visit the vessel during the day. Black noddies nest in the shrubbery and flocks of lesser frigate birds soar higher and higher overhead, riding the warm updrafts of air as far as they can. Enjoying the amazing visibility, we will scuba dive to observe turtles, while tip reef sharks, docile tawny nurse sharks, barracuda, and dog tooth Tuna, as well as beautiful Gorgonian fan corals. Enjoy beach walks to spot birds and sociable hermit crabs. It may also be possible to climb a small navigation tower on East Diamond islet to get a stunning view of the surrounding vibrant waters of the Coral Sea.
---
Lihou Reef, the largest in the Coral Sea at 2,500km2, is surrounded by 18 small sand cays. Lihou Reef, protected by the Coral Sea Commonwealth Marine Reserve, is located 575km southwest of Cairns, and was first discovered in 1823 by Lt. Jon Lihou about the HMS Zenobia. Located far away from the coast, the waters surrounding the reefs and cays are pristine and exceptionally clear. With visibility up to 60 metres, the spectacular underwater world becomes an otherworldly experience, with walls and swim-throughs home to numerous fish. Enjoy diving and snorkelling at multiple sites to take in the wonders of the remote area. Later, go ashore on the sand cays to encounter the friendly seabirds up close and relax on the beach as the sun sets.
---
The top of an extinct volcano 30 km in diameter, Marion Reef rises from the deep water of the Coral Sea as a perfect horseshoe surrounding a deep turquoise lagoon. A multitude of bommies covered with brightly coloured hard and soft corals, easily explored with visibility up to 45 metres, are a feature of this remarkable remote reef. Three permanent sand cays, topped with coarse coral sand, provide a home for plentiful bird life. The atmosphere is remarkably remote – nature at its finest. Its rarely visited location makes Marion feels completely untouched, the coral formations swarming with large pelagic fish such as enormous trout, grouper, and yellow-fin tuna. Huge painted crays wave their antennae from crevices, curious sea snakes weave through the current, and reef sharks patrol between the bommies. This enormous reef system provides so much to see – a truly unforgettable expedition destination.
---
Frederick Reef, a small atoll with a large ridge at one end and several sand cays, covers an area of 30 square kilometres. Rising out of deep water, the reef has been a hazard to shipping since 1825, when Royal Charlotte was wrecked here, with two lives lost. The US Submarine USS Tiru and the Jhansi Ki Rani, an Indian bulk carrier, were damaged by running aground on the reef in the 1960s and 1980s. The north-eastern tip of the reef, permanently out of the water, is where the Frederick Reef Lighthouse is built protect passing ship traffic. It is possible to see the anchor of the Royal Charlotte, lying in 2-4 metres of water and surrounded by a lovely reef teeming with fish life. We will also spend time relaxing on the sand cays and snorkelling over the reef or diving the walls.
---
Usually only visited by fishing charters, this narrow chain of reefs and cays is situated atop of a large shield volcano produced by the eruptions of the Tasmantid Seamount Chain. The reef is named in honor of the sunken HMS Porpoise and Cato which were lost on Wreck Reefs in 1803. Today, we dive into these tropical waters to explore the submerged wrecks and learn more about the site of Matthew Flinders' dramatic shipwreck during his historic survey of the Australian continent.
---
Today, we immerse ourselves in the maritime history, archaeology and ecology of the remote Cato outpost, part of the Coral Sea Islands territory. Cato is a deep ocean sand cay, named after one of the earliest colonial merchant vessels lost in Australian waters when colliding with uncharted reefs. The wrecks of Cato and Bridgewater are of great historic significance and lie within a historic wreck site protected from unauthorized interference. Those interested in diving the wrecks will be treated to a diving experience led by a qualified Coral Expeditions dive instructor. The surrounding coral reefs are situated on the top of Cato Bank, a large shield volcano produced by eruptions of the Tasmantid Seamount Chain, and which falls away steeply on all sides. The birdlife here is exceptional; expect to see gannets, terns, and frigate birds. Of interest, this tiny unpopulated island became world-famous when it made headlines as capital of the Gay & Lesbian Kingdom of the Coral Sea Islands, formed in protest at the Australian Government's decision to outlaw gay marriages.
---
Arrive in Brisbane for disembarkation at 12pm
---
This itinerary is an indication of the destinations we visit and activities on offer. Throughout the expedition, we may make changes to the itinerary as necessary to maximise your expeditionary experience. Allowances may be made for seasonal variations, weather, tidal conditions and any other event that may affect the operation of the vessel.
---
Coral Adventurer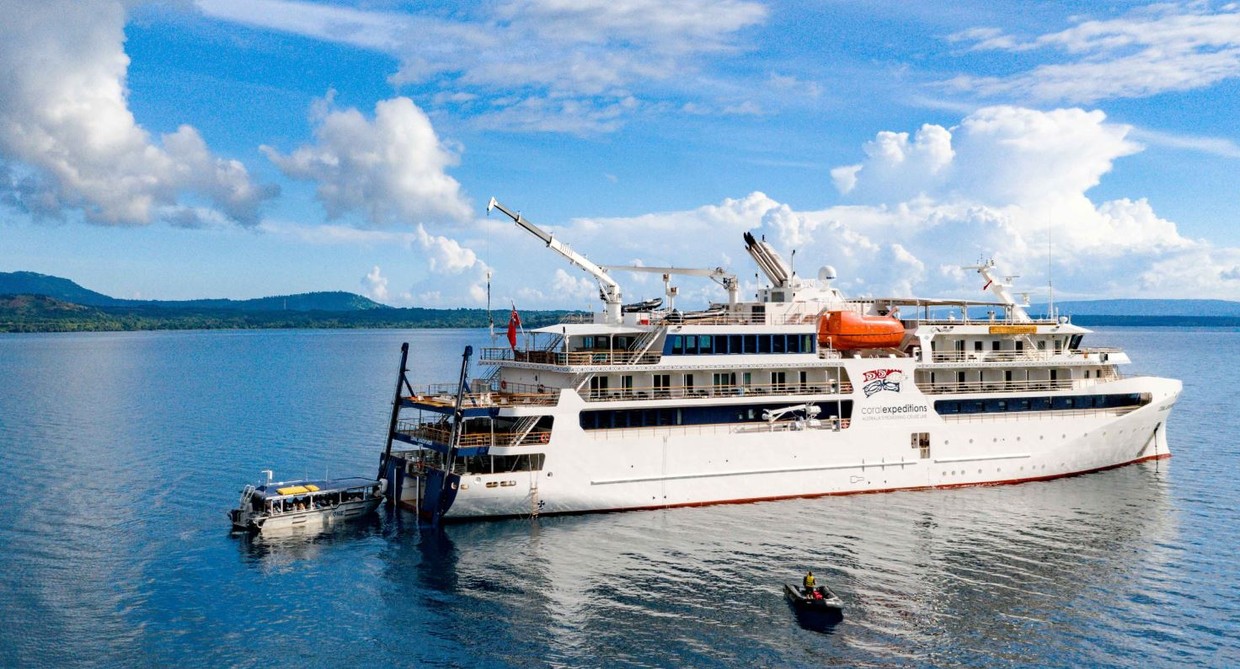 Vessel Type: Expedition Ship Length: 93.4 meters Passenger Capacity: 120 (60 staterooms) Built: 2019 Designed and built to be the most modern tropical expedition ship afloat, Coral Adventurer debuted in April 2019. She features comfortable Australian interiors, Xplorer tender mechanism, intimate guest experience, and personalized service. EXPEDITION CAPABILITIES > Two trademark Xplorer tenders seat all passengers for shore excursions > Six zodiacs for more intrepid exploration > Lecture lounge with multimedia for daily expedition briefings and presentations > Small on-board Library > Shallow draft and advanced navigation and propulsion systems MARINE IMMERSION > Navigator lounge in the bridge giving a vantage point of ship operations > Over 1000 sq m of open deck space including a wrap-around promenade deck with panoramic views > Engine room tours and high level of crew interaction with guests > Barralong Room for hosting scientific research or exhibitions FOOD AND WINE FEATURES > Communal 'wine table' > Galley viewing window > Multiple indoor and outdoor bars, including our Explorer bar on the Vista Deck > Curated wine cellar featuring boutique wines and exceptional vintage Australian reds. GUEST COMFORT > All outside-facing guest cabins with en-suite bathrooms; majority have private balcony > Active stabilisers > Gym > Passenger elevator > Wi-Fi available in all guest areas
Highlights
• Immerse yourself in the maritime history and ecology of Australia's most remote coral reefs and cays • Snorkel, dive and explore deserted Coral Sea atolls including Marion Reef, an incredibly vibrant reef formed atop an extinct volcano • Explore the sapphire coloured water and golden sandy cays of the pristine Diamond Islets and Tregrosse Reefs, known turtle nesting areas • Identify and learn about the abundant array of bird life at remote locations such as Diamond Islets & Herald Cays • Learn about the important conservation work of the Turtle Rehabilitation Centre on Fitzroy Island • Dive and snorkel over some of Australia's remote reef systems, with the opportunity to see pelagic fish, sea snakes, turtles and reef sharks in their natural habitat • Dive at Holmes Reef, one of the world's top dive sites
Map