---
from
---
Note: Current p/p indicative rate. Final price may change due to currency fluctuations.
---
---
Overview
Escape to Port Davey: An expedition cruise through Southwest Tasmania's World Heritage Area This all-inclusive, guided expedition cruise takes you deep into the pristine coastal wilderness of Tasmania's remote Southwest. This region is one of the most spectacular landscapes on the planet, with wild rivers, quartzite peaks and endless waterways. Only accessible by foot, boat or light aircraft, this remote wilderness area is a Marine Nature Reserve and forms part of the Tasmanian Wilderness World Heritage Area. Your journey begins with a spectacular flight from Hobart to Melaleuca. Upon landing, crew will take you by tender through the mirrored waters of the inlet to your floating home, the base from which you will explore the untouched Southwest. Expeditions are based from a 'boutique floating hotel', the Odalisque, a custom-built twenty-metre vessel equipped with hot showers and soft beds. Guests are entertained by an all-star crew, including skipper, local chef & expert guide. The guest chefs (borrowed from Hobart's best restaurants) provide top-notch, modern Tasmanian fare paired with fine Tasmanian wine. The hand-picked expert guides (with years of experience in the area) will double as your personal walking encyclopedias. Please note this is true expedition travel. The itinerary acts as an example, your trip will be tailor-made to the weather, your interests and other factors. This allows for the best possible experience.
Departures
Note: Current p/p indicative rate. Final price may change due to currency fluctuations.
Cruise Itinerary
Your experience begins at Cambridge Airport, the gateway to the South West Wilderness. What better way to set the scene for your visit into this incredibly remote and wild part of Tasmania than with a scenic flight. The views over the city, dramatic coastal cliffs, towering mountain peaks and never-ending green of the World Heritage Area are awe-inspiring. One hour after we depart Hobart, we will land on Melaleuca's stunning white quartzite airstrip, where you'll be greeted by your crew. Your guided experience starts as soon as you step off the plane. We'll begin with a tour of the cultural & historical sites around Melaleuca, including the old tin mine & the newly built Melaleuca Museum. We'll then take you on an Aboriginal heritage walk, which shares the story of the Needwonnee people of the Southwest with innovative interpretive installations along a new 1.2km boardwalk. The path weaves its way through the forest and buttongrass plains beside Melaleuca lagoon. We'll also visit the Orange Bellied Parrot viewing hide, where there may be the chance to spot this critically endangered animal & the measures being taken to save this beautiful creature. From the jetty at Melaleuca, we'll travel by tender through the mirrored waters of Melaleuca Inlet to Odalisque, your floating home for the next 3 days. You'll be greeted aboard by your chef, who has prepared a delicious lunch of fine Tasmanian fare. This all goes very nicely with a boutique Tasmanian beer or a glass of fine Tasmanian wine. Sit back, relax and soak up the scenery while the Odalisque travels slowly through Bathurst Harbour & the aptly named Narrows to an anchorage at Casilda Cove or Horseshoe Inlet. We'll use the afternoon to travel ashore for a short 30min walk up Balmoral Hill. From the top there's a spectacular view of the lay of the land. It's a great way to get your bearings of a waterway 3 times the size of Sydney Harbour. There's also the opportunity to view the gravesite of Critchley Parker, where your guide will tell you of his doomed but romantic tale of exploration. Back aboard Odalisque, we'll slowly motor further towards the mouth of Port Davey to an anchorage for the night, possibly Schooner or Bramble Cove depending on the weather. The days are long this far South; it doesn't get dark here until after 9pm. So we've got lots of time before dinner to fill with chatting, storytelling and relaxing over pre-dinner drinks & nibbles. We have boutique Tasmanian Moo Brew beer on tap and a great range of Tasmanian wines. We can spend the last of the daylight setting up night vision motion detection cameras ashore. Then it's back to the Odalisque to enjoy a gastronomic feast prepared by our onboard chef.
---
As an expedition cruise we will match the itinerary to what you want to see and the conditions at the time. Days two and three may follow the following four options: Option 1: Old Rivers & History We have the opportunity today to explore the winding, tree lined bends of Davey River aboard our jet boat. This remote & beautiful river is the only major river system in Australia totally untouched by man. Keep your eye out for Huon Pine growing on the river banks. We'll have a gourmet picnic lunch ashore at Larson's rocks, one of the many beautiful harbour beaches, and after lunch we can wander along Bond Bay shoreline to view aspects of both Aboriginal and European culture. On our way to Odalisque's next anchorage, we'll explore the coastline around Ashley Point. You'll see amazing rock arches and stunning rock formations including the Marvourneen Rocks, plus blowholes and caves. Anchorage options for the evening include Wombat Bay or Schooner Cove. After some time relaxing aboard, we have the option to hike up a nearby peak for some amazing views. There are several great hikes in the area between 2-3hours return. We'll pick one depending on your preference. The 1hr hike up Mt Milner is rewarded with spectacular views over the harbour's entrance and Spain Bay, the Breaksea Islands and Big Caroline Rock. Other walking destinations include Morning Hill, Mt O'Brien and Mt Stokes. Option 2: Coastal Beaches & Hidden Inlets We'll set out early on a nice, calm day to explore the nearby waters & coastline beyond the protected harbour of Port Davey. In the tender, we'll cruise through the rushing channels of the aptly named Breaksea Islands, exploring their rocky and wave battered coastline, blowholes and hidden sea caves. Our journey around the coast offers a spectacle of unchanged majesty – wave cut rock formations, gulches, petite inlets, sweeping bays and sand dunes many thousand of years in the making. We'll head ashore on the impossibly remote Spain Bay. From here, we'll traverse a deserted, prehistoric and undulating landscape and emerge through a thick clump of forest to one of the world's most spectacular beaches at Stephens Bay. We'll enjoy a gourmet picnic hamper nestled somewhere in the white sands of this 4km long beach. Keep your eye out for ground parrots, wombats and Sea Eagles today. We can wander further along the beach to explore ancient Aboriginal middens hidden in the dunes. Returning to Spain Bay, we can venture into Hannat Inlet. The waters here are beautifully calm and warm – the perfect spot for a swim! It's also a favourite nesting site for swans and waterfowl, so we've got a good chance of spotting these birds. Back aboard Odalisque there's time to relax & soak up the scenery as we slowly cruise to a different anchorage. Potential options for tonight's sunset views include Ila Bay, Cyltie Cove or Eve Point. Option 3: Birds & Buttongrass We'll have a relaxing morning, making our way to explore the beaches at Whalers Point. There are amazing views from here back over the whole of Port Davey. And if it's a sunny day, it's the perfect spot for a swim! After a tasty lunch aboard Odalisque we'll head back ashore again to walk to Paradise Lagoon. The walk will take us through low buttongrass country. You'll be one of only a handful of people, perhaps the only ones this year, to visit this remote area. Paradise Lagoon is a pristine habitat for ducks & swans, its waters bordering right on the edge of the wild west coast. From the lagoon we can walk to Sandblow Bay, where you can dip your toes into the waters of the Southern Ocean. Returning to the boat, replenish your energies with scrumptious, hearty fare & relax over a drink as Odalisque slowly makes her way to the mooring at Kings Point for the evening. Option 4: Conquer Mt Rugby Mt Rugby dominates the landscape wherever you are in Port Davey, and today we have the opportunity to climb this mountain. The journey is a 6hr return walk for fit walkers, whose efforts will be rewarded with top-of-the-world vistas of distant ranges, wave-wasted coastlines and languid waterways. For those guests less vertically inclined, we can spend the day touring on the jet boat around the coastline of Bathurst Harbour. We'll motor up Old River, a pristine riverine environment where you'll get the chance to see Azure Kingfishers and Huon pine, and will spend the day making mini-missions ashore to explore various historical and cultural sites. We'll have lunch at Fulton Cove, a peaceful, lovely destination. All guests will meet back aboard Odalisque, swap stories from their day and share photos after their various adventures. We'll motor back to Odalisque's original mooring, while you chat and soak up the view. Sunset drinks will be on one of the beautiful, tree-lined beaches on the Celery Top Islands. Soak up the picturesque views of Mt Rugby at sunset before we head back to Odalisque for dinner.
---
Following breakfast, we'll head ashore for the morning to explore Clayton's Corner. Here you'll find nestled into the edges of the rainforest the home of Win & Clyde Clayton, two famous locals who made a home in this wilderness for many years. Their sheltered nook has been turned into an interpretive site. It's a great place to spend some time exploring and learning about the region's history. This site is also the launching pad for a number of great walks. A short walk takes you up to the top of TV Hill, which offers wonderful views over Bathurst Harbour, Melaleuca Inlet, the Celery Top Islands and Mt Rugby. If you'd like to stretch your sea legs a little further, we've also got the option to climb Mt Beattie (2.5hrs return) for more expansive views of the waterways and surrounding peaks. After one last meal aboard Odalisque, we'll make the journey from your floating home back up Melaleuca Inlet to the jetty. Time allowing, we'll have one more chance to spot the Orange Bellied Parrot before your return flight departs from Melaleuca.
---
Itineraries are subject to change.
---
Odalisque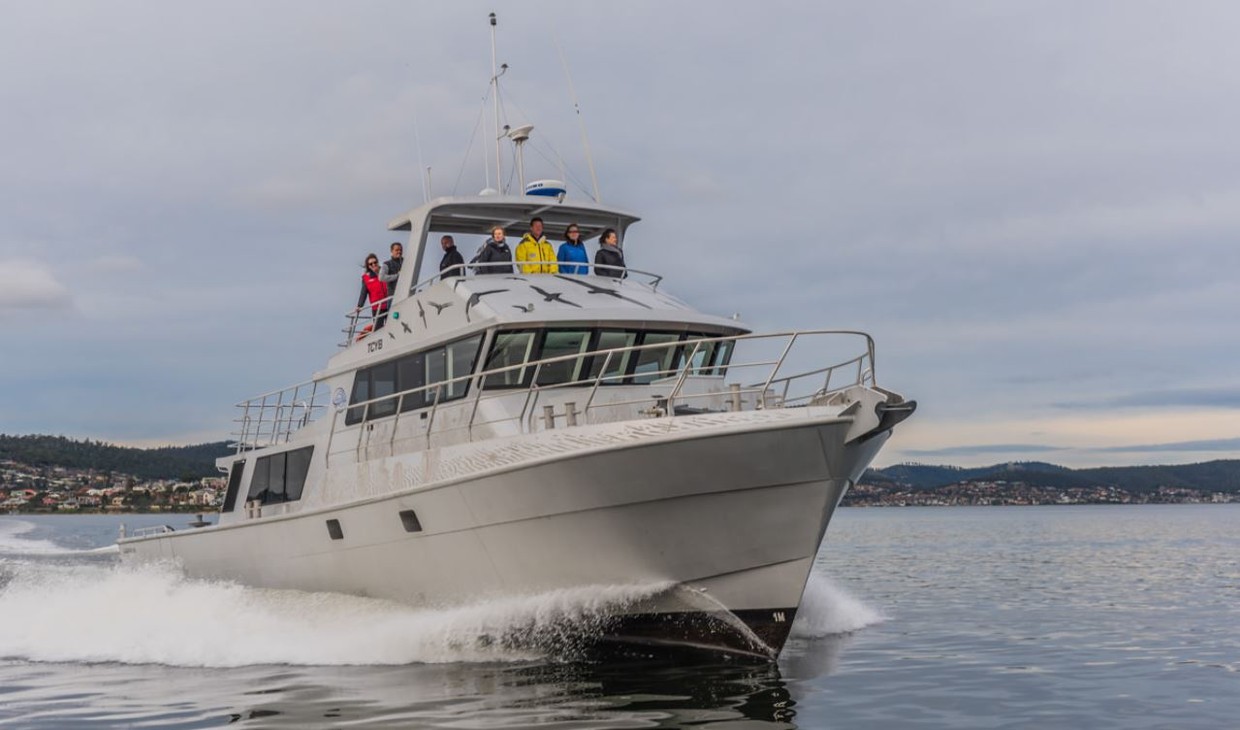 Vessel Type: Small Expedition Length: 19.8 meters Passenger Capacity: 10 guests overnight, or 40 guests for day cruises Tasmanian owner Pieter van der Woude's custom-built twenty-metre expedition cruise vessel is designed for the comfort and safety of guests. Cruising with a maximum of 10 guests overnight, or 40 guests for day cruises, the Odalisque has three private cabins, a comfortable entertaining and dining area and three spacious outside decks for sightseeing, photography or sunset barbecues. The galley consists of a contemporary spacious kitchen with an island bench, sofa seating and large open windoes to relax and enjoy the spectacular scenery or watch the chef cook up a storm. The open plan saloon area allows panoramic views, has plenty of lounging capacity and a large dining area for a leisurely dining experience. A tru boutique floating hotel, it's perfect if you're eager for adventure but not so keen on roughing it. Odalisque's Tenders The mother ship Odalisque is supported with the service of two tenders, an aluminum dinghy and a jet engine RIB. The 'tinny', our 14ft aluminium dinghy, is a very versatile, safe and fast vessel. It's well suited to handling the weather conditions of Tasmanian waters, which can change very quickly. It's our preferred vessel for the exploring of sea caves, because of boat's maneuverability and easy handling, and for travel over longer distances, because of it's speed. The jet engine RIB is the newest addition to our fleet, making a nice complement to the tinny. A jet engine makes it the perfect vessel for exploring ocean & river environments where you can't see the bottom or any hidden bombies that might be lying under the surface (as is often the case in the tannin stained waters of Port Davey). For this reason, the jet boat is often used on excursions up the Old River and Davey Rivers. It also has very comfortable lounge seating, and is a quick and safe vessel to travel in.
Highlights
• Discover Tasmania's spectacular World Heritage Area and the Port Davey Marine Reserve • Explore with people who know this wilderness intimately • Dine in your own private floating restaurant serving fine Tasmanian fare and cool climate wines • Enjoy daily shore excursions, tailored to your interests • Explore narrow winding waterways lined with Huon pine by jet boat, hike to mountain-top vantage points where it feels like you can see over the edge of the world, picnic on remote beaches and soak up the serene views from the Odalisque's deck as you cruise past sea caves, rock arches, blowholes and rocky islets.
Map